Professional UAS built Industrial strong
Compact Design, Folding Arms

Ascent X / X8 is a sUAS platform that is both flexible and payload agnostic! Enabling customers with unique and demanding payloads is a CamFlite specialty

Contemporary and Conformal
Command and Control (C2) Solutions
Using the Lasest
Autopilot Systems
Featuring Auterion Skynode
Skynode is the centerpiece of your autonomous system, combining compute, video streaming, networking, cellular connection and the flight controller in one tightly integrated device.
Heavy Lift
Versa X / X8
The CamFlite Versa combines a spacious platform best-in-class heavy lifting capabilities
More Info
Why Chose Camflite?
Our mission is to engineer the best sUAS on the planet for commercial and public asset inspection applications. We have taken the time to fully test and perfect out design for heavy daily use.
Capable Platforms
Long flight times combined with best-in-class payload capacity ensure you have the power to get your job done.
Easy to Fly
Short training times and stable drones means your operators can execute their missions perfectly.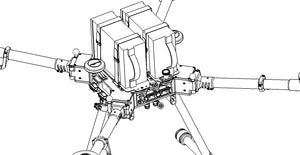 Adaptable, Custom Solutions
Camflite excels at working with our partners to solve technical problems with innovative solutions.
Perfect for These Applications
High Winds
Surveying & Mapping
Infrastructure Inspection
Public Safety
American Assembled and Supported Heavy-Lift Drones
CamFlite products are designed, engineered, tested, and assembled in the USA. As a American company, CamFlite strives to procure every component from domestic sources. We also source globally when domestic components or products are unavailable. Camflite provides support from our New Jersey-based facilities as well as onsite consulting and training. We have been designing and building drones since 2012.  
We look forward to serving your sUAS needs!